While fans anticipated a brand new trailer for Justice League at San Diego Comic-Con, they may not have prepared themselves how great of a trailer it truly is. This over 4-minute long trailer gave fans and audiences around the world a fantastic look at Zack Snyder's upcoming Justice League film. 
The trailer had plenty of great action appearances while at the same time giving us an idea as to what the Justice League are up against. If you still haven't had a chance to watch this awesome trailer, please do yourself a favor and watch it below:
Though filled with plenty of Easter Eggs, the trailer doesn't go into too much detail regarding the films overall plot. However, what the second official #BatmanvSupermanDawnofJustice trailer did wrong, the #JusticeLeague trailer did right. That film should not have revealed Doomsday. His surprise would have been better received if the marketing had focused only on Batman versus Superman.
I believe that this Justice League trailer did everything right. Most importantly, the trailer hid Superman while exposing the films big bad. Here are some reasons why this was so crucial from a marketing standpoint.
Why They Needed To Reveal Steppenwolf For those who have seen the deleted scene from Batman v Superman: Dawn of Justice, fans were given their first look at one of Jack Kirby's greatest creations holding the Mother Boxes. Steppenwolf (Ciarán Hinds) is one of the New Gods who serves under Darkseid from the dystopian planet Apokolips. He has come to retrieve the Mother Boxes that have somehow planted themselves on planet Earth.
One of the main reasons why it was so imperative to show Steppenwolf in this trailer is to give a general idea of who the Justice League are up against. We've already seen the team fighting against Darkseid's minions called the Parademons. Now it only makes sense to show off the main villain to prove how much of a threat he really is.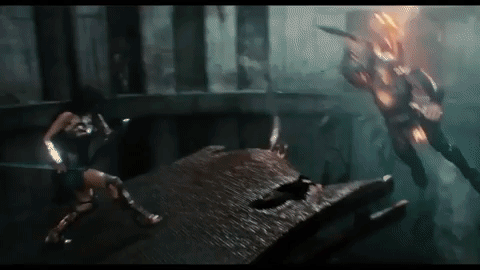 Though we don't get many close-ups of Steppenwolf, we do however receive enough of him in the trailer fighting a couple of one-on-one battles similar to what Ultron did to the Avengers in Avengers: Age of Ultron. The trailer gives us many looks at Steppenwolf taking on #Aquaman and #WonderWoman and boy does it ever deliver. The scenes are blink-and-you'll-miss-it-moments but they certainly get the point across.
#Steppenwolf will be a true test for the Justice League if the trailers are anything to go by. He's not afraid to go toe-to-toe with his enemies which makes him a viable threat. It'll be interesting to see how the Justice League will defeat him. My guess is that they'll need someone who wears the symbol of hope…
Why They Didn't Show Superman If there's one thing that this trailer could have done to ruin it was to reveal the #ManofSteel. The very last scene was enough of a tease to tell fans that he's not too late and that the Justice League will need all of the help they can get. We all know that #Superman will somehow come back from the dead after he "perished" at the hands of Doomsday.
Superman's reveal should be a surprise and should receive the same kind of standing ovation when Wonder Woman stepped out onto No Man's Land in her own film. Superman's return should garner much appreciation from everyone, especially for the Justice League. His resurrection will most likely come at a time when the team needs him the most.
Kal El needs his moment to shine and in all likelihood will eventually overshadow the others in battle. After all, Superman is the beacon of hope and the true leader of the Justice League. Superman will rise again and will show us his true form as the Man of Steel.
Justice League will smash into theaters on November 17.
Did you think the trailer was right to give us plenty of Steppenwolf yet leave out one of DC's pivotal characters? Go ahead and share your thoughts in the comment section below!