'One Big Reason' is a bi-weekly series where I take a look at some of the blockbuster films we love to hate and find one redeeming quality that makes it worth another watch.
Normally I'd choose one film in this series, but this time I decided to change things up a bit.
#Piratesofthecaribbean recently opened with it's (final?) movie titled Pirates of the Caribbean: Dead Men Tell No Tales. While it's off to a strong start oversees, it's thus far garnered over $77 million on the domestic market. With an estimated production budget of over $230 million the recent Pirates film is off to a strong start.  
But why do fans enjoy these Pirate movies so much? Johnny Depp's Captain Jack Sparrow is primarily the reason people are going to the theaters, but is there another reason? I believe that there is and it's because of the strong developed villains this franchise has brought up.
Say what you want about Depp's Captain Jack Sparrow. He's certainly crafted a character of his own and enjoys playing the role. Heck he even made a brief appearance at Disneyland's Pirates of the Caribbean ride where he surprised fans attending this attraction. However it has truly been the villains that have kept this franchise afloat and it all goes back to the first villain we were introduced to; Captain Hector Barbossa.
Geoffrey Rush's Barbossa Helped Kick-Start The Memorable Villains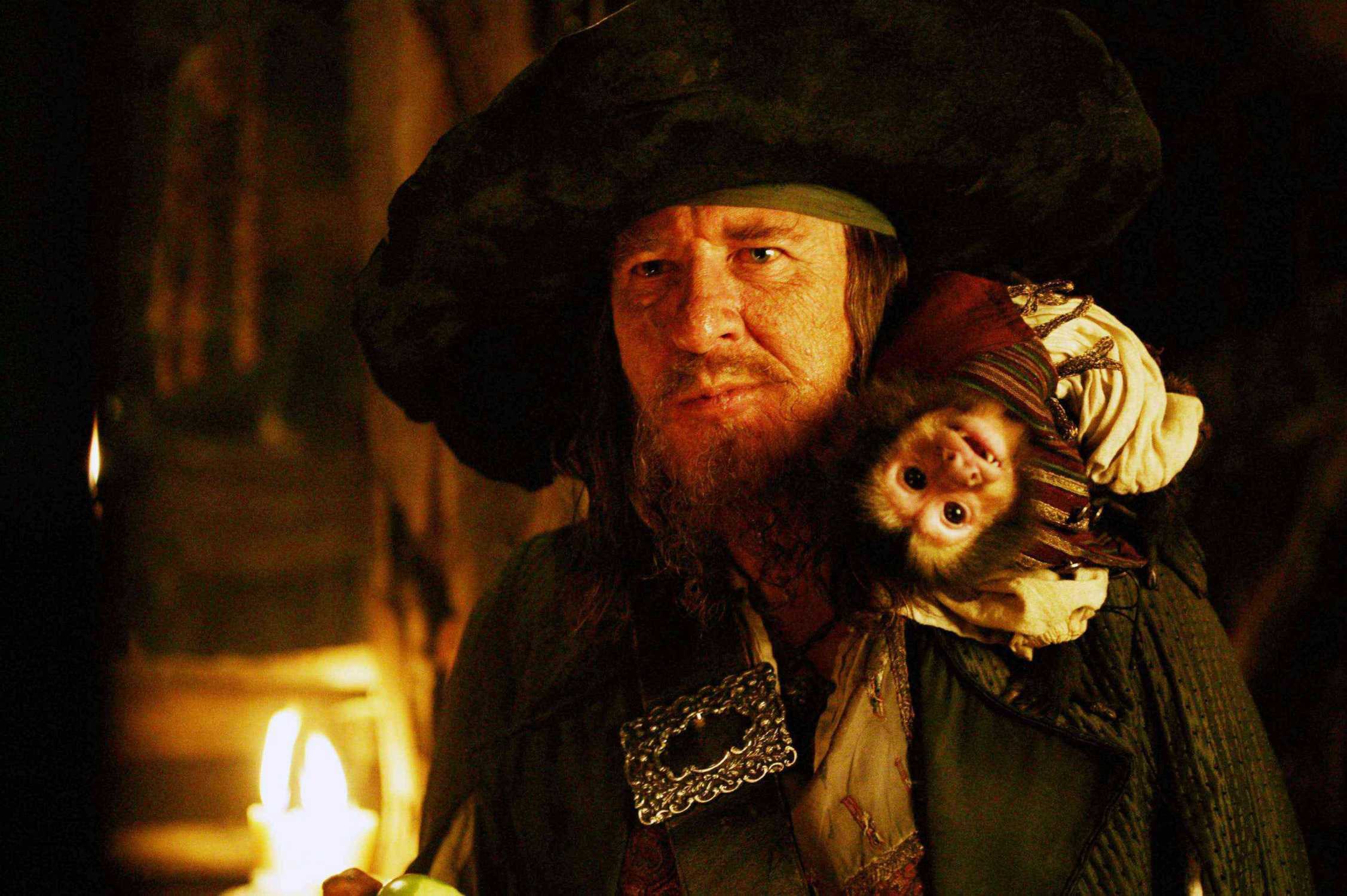 With the exception of Loki, not even Marvel knows how to create memorable villains. Hector Barbossa (Geoffrey Rush) captain of the Black Pearl is out for the final gold medallion that once belonged to Hernando Cortés. Barbossa and his crew were cursed and turned into heavily decomposed corpses. The final piece along with the blood of the original owner would officially break and end the curse for the crew.
Rush's charismatic character and wit brought a great likeable villain to the table. Sure Barbossa can be cruel even to his own shipmates, but deep down all he wants is to end the curse that has plagued him for years. Barbossa also has a dead monkey as his pet. I mean what's not to love about that?
Bill Nighy's Davy Jones Was A Worthy Follow-Up Villain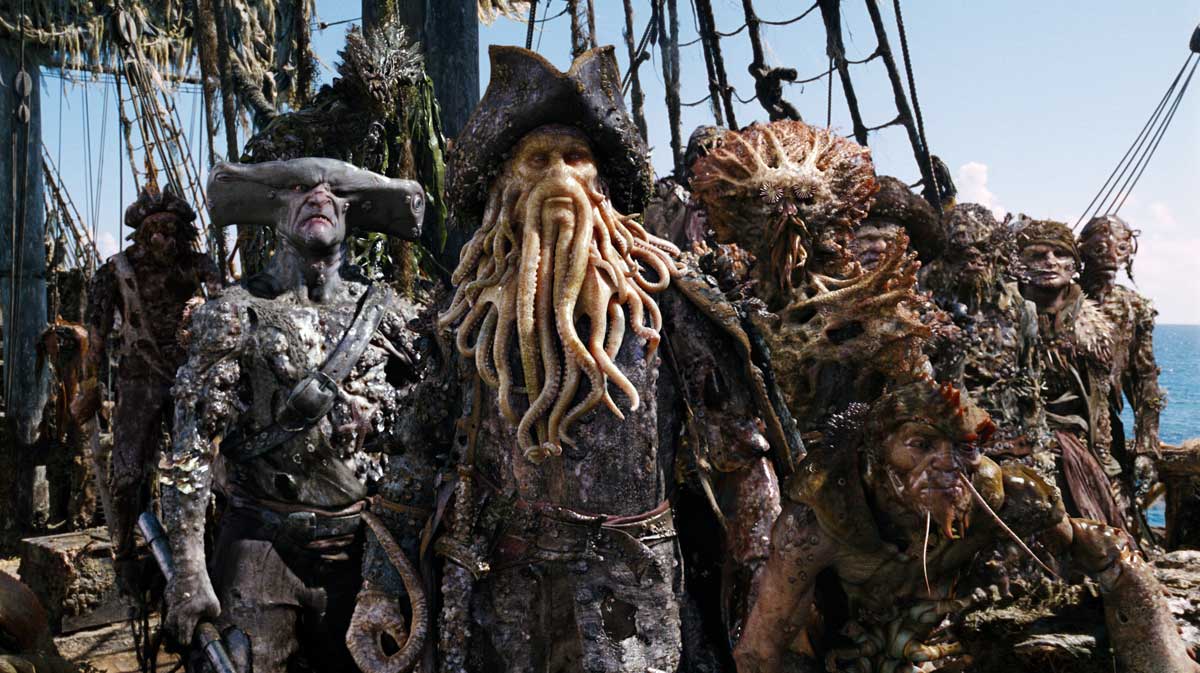 How do you possibly follow-up an intriguing villain like Hector Barbossa and nearly surpass him? Well, you throw in Bill Nighy, place some CGI over his face and boom! you have Davy Jones himself. Captain of the Flying Dutchman, Davy Jones is every sailors' nightmare on the open seas. If you make deal with him, you'd better honor your word because Jones will find a way to reach you and when he does, it won't be pretty.
Nighy's villainous presence may not be as memorable as Rush's Barbossa, but he does bring a more menacing presence. Not only does Jones have a scary crew of sailors who now work for him, but he also has control of the largest creature at sea; the Kraken. At will, Jones can summon the Kraken using his own ship and can send the beast to destroy other ships at his own discretion. Nighy has such a scary presence, that he also comes with his own horrific theme that sounds a bit similar to the original monster we all know as Dracula. I mean Jones has his own giant organ for crying out loud!
Captain Salazar's Presence Is The Best Part of 'Dead Men Tell No Tales'
In what appears to be the finale of this long running franchise, Javier Bardem's portrayal of Captain Salazar is the high point in Dead Men Tell No Tales. Bardem brings it as the frightening Captain Salazar. Salazar is on a quest for revenge against Jack Sparrow after Jack outmaneuvered him around the deadly Devil's Triangle. This major mistake by Salazar cost him and his crew their livelihood as they became cursed and were turned into ghosts.
Salazar drives the film forward and is a worthy addition to the multitude of villainous roles. Like the other villains before him, Salazar is fleshed out and given a proper backstory that makes us understand the motivations behind his killings. Similar to Barbossa and Jones, Salazar too has "pets" that will follow his orders. Salazar has undead sharks that hide in the basement of his ship until needed. The sharks immediately come back to life as soon as they hit the water and go after anything that they find living above the surface.
The Villains Have Kept This Franchise Paddling Forward
While Ian McShane's representation of Blackbeard is the weakest of the villains, the #PiratesoftheCaribbean deserve a standing ovation for creating meaningful performances out of their actors. Rush, Nighy, McShane, and Bardem all gave an A+ effort to their script they were given. It's not easy to try and outshine the likes of Johnny Depp but most of these high-caliber talents have done just that. The franchise wouldn't be the same if it weren't for these smartly written characters who gave their all in the roles.
Those are my thoughts on the Pirates of the Caribbean franchise as a whole. Do you agree? What are some of the things that kept you interested in this franchise? Share your thoughts in the comment section below!