When you think of Hulk fighting the Hulkbuster, most of you may immediately think of the epic battle between Tony Stark and the Hulk in Avengers: Age of Ultron. That combat took place shortly after the Scarlet Witch subdued the Avengers with haunting visions including Bruce Banner, which in turn resulted in an enraged Hulk rampaging through a major city. 
The battle was short lived, though not without its consequences. A few lives were lost and part of the city's buildings were leveled during the chaos that ensued between Hulk and the Hulkbuster. After a hard fought battle, Stark finally brought him down after a huge brawl. It was a good thing that he was prepared, because the Hulkbuster armor is specifically made to go toe-to-toe with the Hulk should he ever lose control of himself.
As iconic and memorable the scene was from Avengers: Age of Ultron, that hasn't stopped fans from creating their own interpretation of a fight. Anthony McGrath crafted an astounding video on his YouTube channel and it must be seen to be believed. Watch the full fight below!
The Animation Is Stunning And Shows True Fan Dedication 
What can I say other than to constantly praise this man's hard work. The animation is simply beautiful to look at. The time and  dedication it must have taken to complete this entire video shows how much work was put into this. The action alone is spectacular but the facial expressions on Stark's face must have been tough enough to accomplish to make it look as realistic as possible.
The appearance of the Hulk looks EXACTLY like Mark Ruffalo's interpretation of the infamous Marvel character. With the assistance of motion-capture aficionado Andy Serkis, Ruffalo had a hand in the CGI creation of his Hulk in both of the Avenger's movies. How this person was able to recreate this using his own computer generated format is beyond me, but it's nearly on par with the effects Marvel utilizes in their films.
Not only are the effects of both the Hulkbuster and the Hulk himself incredible to look at, but so is everything else. From the vehicles to the buildings, all the way down to the rubble itself, the video  showcases brilliant animation. Each and every frame must have taken a VERY long time to complete. I'm not sure how this was finished, but one can easily tell that it must have taken quite a few people to get the job done.
We Need More Fan-Made Videos!
It's always nice to see fans come up with crazy and unique videos and aren't afraid to show their talent publicly. It just goes to show you that you don't need a huge budget to create something this distinct. Videos such as this one can be loved and appreciated by anyone whether you're a fan of superheroes or not. Fan fiction is a great thing and this trend should proceed as technology continues to grow.
I hope that this video instills confidence in others to craft something that could bring out the best in themselves. Never say you can't do something without having tried first. It may take some time to fully complete a video you've worked so hard at. But that's the beauty of it. Having the time is hard enough, but allowing enough patience for yourself is what truly will make anything you do stand out.
What did you think about this fan-made video? I'd love to hear what you all have to say in the comment section below!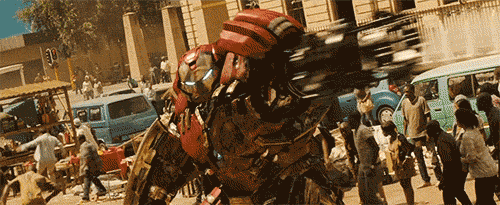 Check out Anthony McGrath's YouTube channel by clicking here!