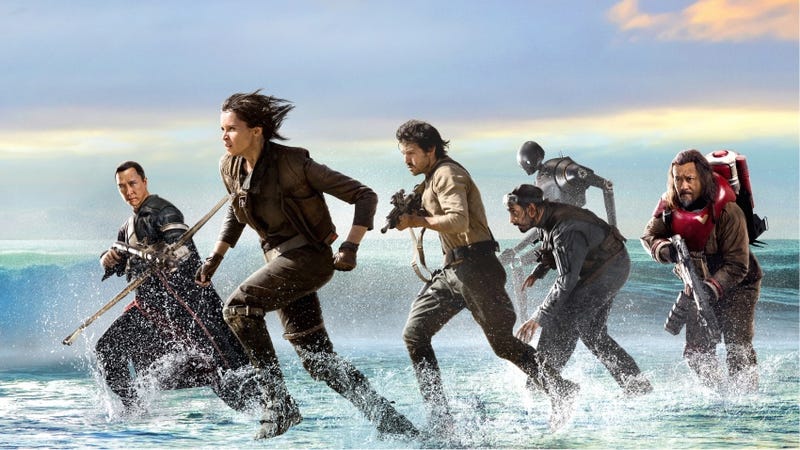 With less than two weeks to go, Rogue One will finally be released in theaters! The closer we get to December 16, the more marketing material we will be receiving. Disney has done a fantastic job giving us just enough shots to keep us excited for the anticipation of what appears to be another incredible Star Wars movie.
Another TV Spot has just hit the web and it certainly doesn't disappoint. Though only thirty seconds in length, this TV Spot gives us even more never-before-seen footage of Rogue One. Watch it below!
Let's break down and take a closer look at some of these amazing visuals.
X-Wings Take Flight And Prepare For Battle This brief clip shows us a great view of the X-Wings taking off into the sunset off of Yavin IV. It's quite possible that this shot is the start shortly before the final battle on the planet Scarif. Rogue One hasn't shied away from giving us similar shots between this film and A New Hope. Just take a look at this scene from A New Hope that feels very reminiscent of the we will be seeing in Rogue One. The comparison's are endless: This happened right before the Death Star Trench Run so it should come as no surprise that the one seen in Rogue One will likely take place before a major battle.
The AT-ACT's Get In On The Action! Though not as heavily armored as their future brethren, the AT-ACT's pack quite a punch as they look to be a force to be reckoned with. I absolutely LOVE this seen as it truly gives that "war film" scope that Gareth Edwards has promised his fans.
Baze Malbus, Chirrut Imwe, And Jyn Erso's Final Moment Together? ,
Without question, Rogue One will likely be the darkest Star Wars film to date. With Disney already showing us more than enough action shots, it's nice to see a touching scene such as this one. Though we don't know how many Rebels will make it out of the film alive, I think it's safe to say that most if not ALL of the main and supporting characters will have a tragic but heroic end to their story. If the above scene is any indication, this is probably the last time these characters will be able to have a normal chat before setting themselves on the battlefield.
X-Wings Ascend To The Heavens Words cannot describe how impressed I am with the visuals for this film. Here is yet another gorgeous shot of X-Wings headed to how knows where. With a lot of the destruction lying in ruins shown beneath, it's safe to say that this takes place towards the conclusion of the epic battle on Scarif. This is a great final shot to end this new TV Spot.
I'm sure there will be plenty more TV Spots to hit the web right before Rogue One is officially released on December 16. What was your favorite shot from this TV Spot? Share your thoughts in the comment section below and don't forget to share! 
See Also: