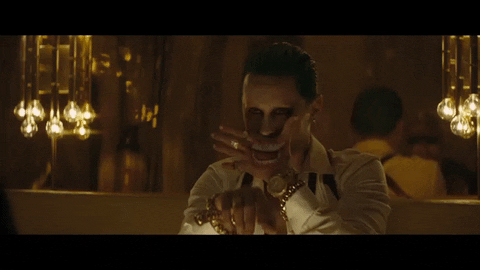 David Ayer's  Suicide Squad  is just around the corner and with that comes a slew of brand new looks at some of our favorite DC characters.  Amanda Waller, Deadshot, and Harley Quinn have all received their very own one minute trailers.  Now it is time for the Clown Prince of Crime to finally get his.  The one minute trailer that can be seen below gives us the best looks at Jared Leto's Joker yet!  
What's New In This Trailer?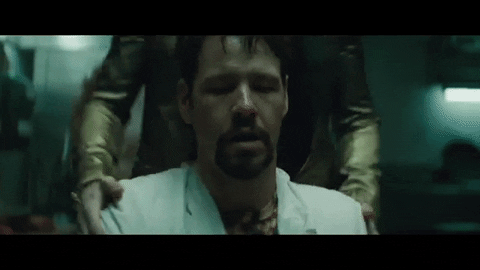 For one thing, we get many new looks at the Jared Leto's Joker.  Though we've seen many of these clips in previous trailers, there are quite a few new one's that highlight some of Joker's antics.  The interrogation seen is shown more here as it appears he's captured the man who's on a SWAT team.  Apparently it's not good to talk to the Joker because according to him, "All that chitchat's gonna get you hurt."  I don't expect this man to make it out here alive that's for sure.
Joker And Dr. Harleen Quinzel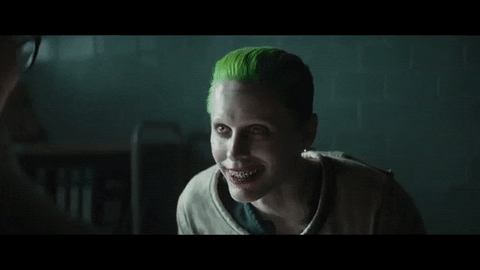 Here we get a better look at the Joker with his crazy green hair.  That also appears to be Dr. Quinzel wearing those glasses on the left side of the screen.  This is most likely a flashback scene where it's the first time both Joker and Dr. Quinzel meet each other.  Of course eventually we all know that Dr. Quinzel will become Harley Quinn in due time.  Joker is a madman and it will be interesting to see what devious plans he has concocted up this time around.
Joker The Detective?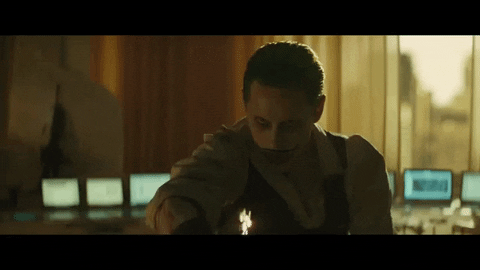 We've all watched the scene where Joker is laying down on the ground laughing up a storm while being surrounded by hundreds of knives.  However, we didn't really understand the context of that scene but now it looks like this may in fact be his own hideout.  In the above picture, you see the Joker wearing the same clothes as in the shot of him laying down laughing.  What we didn't see was all the computers that are shown displayed on the table.
It appears that the Joker could have hidden cameras set up throughout Gotham City and may be watching over certain places to learn the best way break in.  Batman being the detective that he is, has many cameras set up in certain places so it's a bit surprising to see how smart this Joker truly is.  I'm sure he's coming up with some kind of sinister plan and I'm dying to see what it will be.  Will it involve Harley Quinn?  I guess we'll have to wait to find out.
Joker And Harley Quinn Reunited?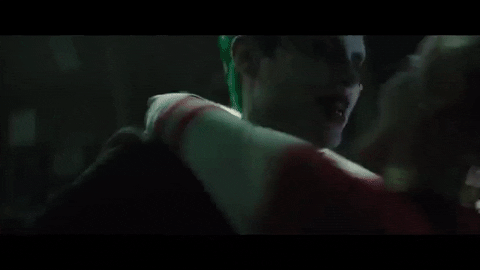 Not much is known as to what happens in the actual plot for  Suicide Squad.  The marketing thus far has done a fantastic job enabling fans to continue to speculate what the actual movie is about.  Could Harley Quinn have been secretly working with the Joker the entire time?  One Creator seems to think so!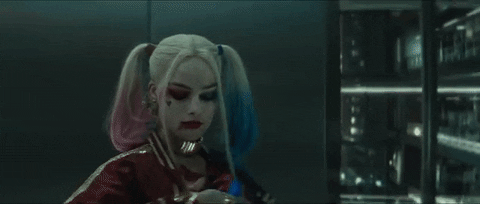 I myself also believe that this may be the case.  Harley Quinn's own cell phone shows that Joker has been reaching out to her.  As  David Opie  points out, her text message reads: "I am close be ready."  That is pretty much a good indication that Harley Quinn is working with the Joker but for how long?  This character has been known to change her feelings towards him from time to time so it will be interesting to see which Harley Quinn we'll be getting.
Final Thoughts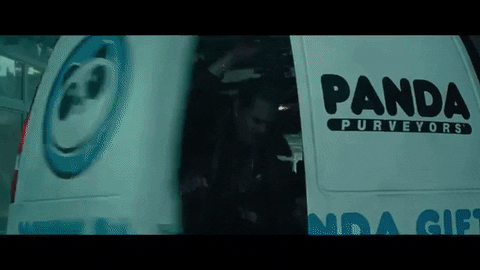 Expect to see more marketing for this film as we inch closer to  Suicide Squad's  August 5th release date.  David Ayer's film looks to be a sure hit for Warner Bros.  I cannot wait to see what the director has in store for us!  With films such as  Fury  and  End of Watch  under his belt, Ayer hopes to add another great film to his repertoire.
Are you excited for  Suicide Squad?  What are you looking forward to the most in Jared Leto's Joker?  Please share your thoughts below in the comment section.  Also, don't forget to follow me here!