Last week, I had the chance of a lifetime to test ride Orlando's newest attraction,  Skull Island: Reign of Kong.  During these "soft openings," fans can experience this attraction in it's entirety only at Universals Islands of Adventure.  Sitting next to another fan favorite,  Jurassic Park: River Adventure,  Skull Island: Reign of Kong  takes guests to Kong's own world of Skull Island.  This attraction is loosely based off the Peter Jackson film that came out over ten years ago.  The attraction also has no relation to the upcoming film  Kong: Skull Island,  even though the titles are very similar.  
Kong has finally made his way back to Orlando!  Fans like myself, may remember that he had a home where  Revenge of the Mummy: The Ride  currently sits.  That former attraction was named  Kongfrontation.  You can learn more about that attraction by clicking right here.
The Story: 
I was so happy to have had the chance to finally ride this attraction.  I have been dying to see Kong make his grand return and in the most epic way.  The story for this attraction is given by Mike West who was one of the people who worked on this project. Watch the video below to get a better understanding of the story:
The ride takes place during the 1940's era.  You will board a massive vehicle and meet up with Kate and her crew on the island to venture out to find the beast.  Basically, you are taking a tour of the island, except things don't go as planned.  You will find yourself surrounded by epic battle scenes taking place on various parts of the island until you meet up with the King himself.
The ride vehicles are huge as discussed in this next video:
The vehicles themselves are 40 ft long, 13 ft tall, and 10 ft wide.  They can hold up to 72 guests at once.  It is also Universal's first trackless vehicle.  The trucks are driven by one of five different animatronic characters named Doc, Jinx, Becky, Collana, or Will.  These characters operate the ride and are the one's who are giving you the tour on Skull Island.
The story sets up an intriguing premise and one that will surely be on your mind as you peregrinate your way through Skull Island.
Let me now discuss the ride in more detail as I give you a better perspective of  Skull Island: Reign of Kong.  
The Ride Queue: 
The queue line is certainly one of the best parts of this attraction.  Like  Harry Potter and the Forbidden Journey  and  Harry Potter and the Escape From Gringott's,  there isn't a dull moment while traversing towards the entrance to the ride. The second you enter past the rock structure that looks like a particular ape, you are immediately immersed into the land of Skull Island.  There is plenty of detail to go around.  The ground and all the walls are covered with something, even if it's a minor.
Something that stood out to me was the fake mud covered rope that was used to piece the bamboo and wooden structures together which you can check out below:
Since the ride is supposed to take place during the 1940's, music of that time period can be heard as you wait in parts of the line.  You can also hear someone over a radio giving us our daily broadcast.  It's these types of details that truly stand out.
You will also find plenty of skulls laying around thanks to the natives (I'll talk more about them later).  As you look around, you will see skulls everywhere and I mean EVERYWHERE.  Don't believe me?  Well, I have a few pictures to prove my point:
As you make your way inside the building, the presence of the natives and their protector Kong feel ever so closer.  Besides all of the skulls you will encounter, there are also a few statues carved into the walls which were also well done.  It immediately sets up the mood and tone Universal was looking for, as you can't help but feel an  Indiana Jones and the Temple of Doom  vibe.  You can view one of them below:
However, the best part of the queue line takes place in one particular room.  Remember this character from Peter Jackson's  King Kong?   You know the one who gave you nightmares?
Well, there is actually a full animatronic of her in the line and I have to say that it's pretty incredible.  Check out some of the pictures below:
She is definitely one creepy SOB.  Due to the sheer noise inside of the room, I couldn't hear exactly what she was saying.  However, I'm sure it wasn't good.  After all, these natives only care about offering up sacrifices to their god Kong.
Introducing Scare Actors:
Another aspect of the ride that makes it enjoyable, is that this is also the first Universal attraction to feature scare actors.  For those of you who have attended  Halloween Horror Nights,  you know exactly what I'm talking about.  This added feature makes it feel much more realistic as we are enveloped into the world of Skull Island.  I don't get creeped out too easily, but I must say one of the actors got me in one of the rooms.
I have to give big props for Universal going bold on this one.  I hear rumors that they may be removing this feature because some of the parents are complaining it's too scary for their kids.  It is a little frightening, but let's be honest; the attraction is called  Skull Island: Reign of Kong  for a reason.  I mean the word "skull" is in the title for heavens sake, so of course there will be moments that may be frightening for younger kids!  However, it's all part of the experience and will hopefully stay for years to come.
Before I talk about the ride itself, here are a few more photos to check out:
What Takes Place In The Ride?
*Due to copyright violations, I will not be posting any videos or clips from the actual attraction.*
After you board your vehicle, you are immediately taken to the entrance of the walls where the large doors slowly open, giving you access to Kong's world.
The very first scene takes place inside of Kong's own cave where you see the skeletal remains of one of his ancestors.  Here is where you encounter large bats who are frightened and begin to attack your crew.  You manage to escape the cave, only to find yourself battling large insect type creatures in the next room.
Remember these ugly worm-like creatures from the Peter Jackson film?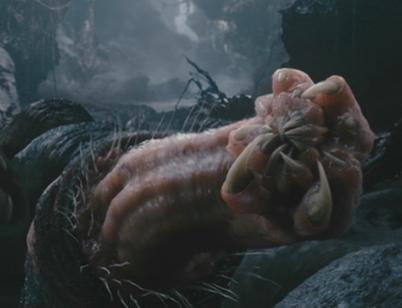 These are just one of the many creatures you will have to face on your journey as you get closer and closer to meeting Kong.
The following room is where you will confront with many dinosaurs including the vicious velociraptors and T-Rex's.  For those familiar with the Universal Hollywood  King Kong 360 3-D,  it's literally the exact same thing.  That one scene was taken directly from the tram tour from Universal Studios Hollywood.  This is by far the best of the three large green screens on the attraction.  But when the finale arrives, the hairs on your neck will surely rise up.
And finally, we meet King Kong in the flesh!  For those who have been following me, you will know how much I am a HUGE fan of King Kong.  Below, you will see a picture of me with my family from the year 1996. This was what they called a KODAK moment, and you could have obtained own picture with Kong himself after riding  Kongfrontation.
I was very pleased to hear that they were putting in an animatronic King Kong like they did with  Kongfrontation.  After all, that's all I ever wanted from this attraction.
Final Verdict:  
After only experiencing this attraction once, it's tough to gauge how much I liked or disliked this attraction.  On the one hand, I thoroughly enjoyed the queue line.  It definitely sets you up on a grand adventure as you manage your way towards the loading dock.  The biggest gripe I have on this attraction is the lack of practical effects.  I knew going in that there would be a ton of green screen, but I was hoping for a bit more live action sets.
While  Harry Potter and the Forbidden Journey  has its fair share of screens, there is plenty of practical sets in there that make it feel real.  I would also compare this ride to Kong's original attraction; Kongfrontation.  That attraction felt like you were soaring above the streets of New York inside an aerial tram vehicle.  The pyrotechnics of that ride were also well done.
A few other minor issues I have with the ride is the actual screens themselves.  Depending on where you are sitting, it may be difficult to see everything that's going on.  You may find yourself constantly ducking to get a better view of the action or just to avoid staring at someone's arms in the air.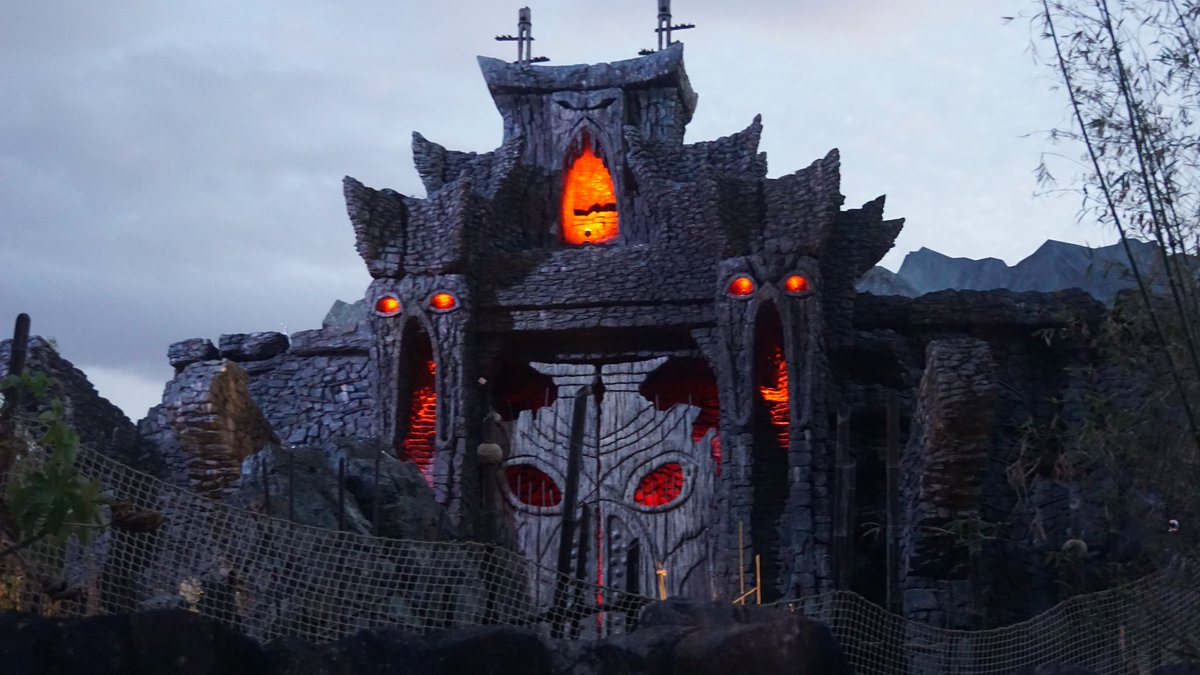 When I mentioned that the lack of sets are noticeable, it is very obvious in the green screen areas.  Since two of the scenes take place with only one screen on one side only, Universal didn't deem it necessary to add any more flavor to the plain black wall you will see on the opposite side of you.  It kind of takes you out of the experience a little bit, since the build-up to this attraction was so high.
While I may sound like I am hating on this attraction, I want you to know that I am not.  In my opinion, it shouldn't be considered a great ride.  This is one of those situations where the build-up to the attraction overshadows the payoff, which is rather unfortunate.  The queue line is incredible along with the added scare actors.  The attention to detail here is extravagant.  The animatronic Kong is certainly worth the wait in and of itself.  The animatronic giant bats at the beginning of the ride also look great.
If you're a Kong fanatic, I would recommend this attraction.  I would also recommend it to anyone who's a fan of going on an adventure.  Though this ride has many green screens and a lack of practical effects, it's still very much enjoyable.  If for nothing else, ride it to see Kong once again.  If you'd like to get a better perspective of Kong, try sitting all the way on the right side of the vehicle.
I'd give the attraction a solid 7/10 stars.  I may change my score after I ride it a few more times, but it certainly won't go lower than that.  If you're ever visiting the Orlando area, you should definitely check out  Skull Island: Reign of Kong.
That's my review on  Skull Island: Reign of King.  I hope that you enjoyed reading this in-depth review on this attraction.  What I'd like to know is, would you consider riding this attraction?  Also, have you ever had a chance to ride  Kongfrontation?  I'd like to hear your thoughts in the comment section below!  Also, don't forget to share and follow me on MoviePilot.com!