Just about anything nowadays can constitute as a work of art.  From LEGOS to paper mache, society is absolutely fascinated with the human mind and what it can do.  With all these rumors surrounding these  Rogue One  re-shoots, it's nice to take a step back and marvel at something that cannot be overlooked.
A popular Sushi chef from Japan named Okitsugu Kado took to his Twitter account to post some amazing pictures showcasing his talent and his love for all things Star Wars. For over ten years, Kado has been crafting the most unique Sushi plates in the entire galaxy.  Using mostly vegetables, Kado carefully sculpts these Sushi plates into popular characters from the Star Wars franchise.  Characters such as Jawas, Stormtroopers, and iconic droids can be seen from a few of these plates.  Plus, you'll get a chance to see major characters like Obi-Wan Kenobi, Finn and Rey, as well Darth Vader himself.
Check out some of the dishes below via Kado's Twitter account: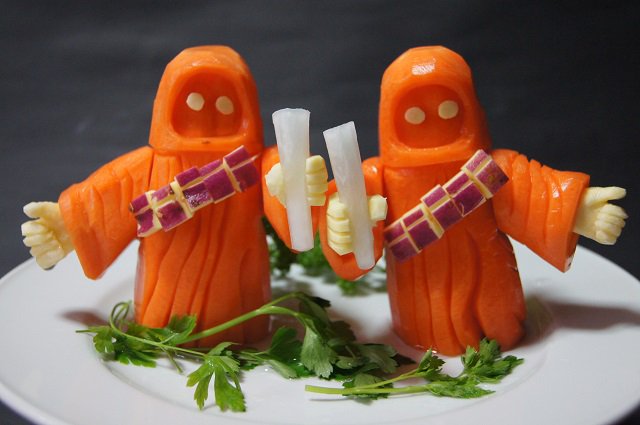 "Ootini!"  These two Jawas look scrumptious don't you think?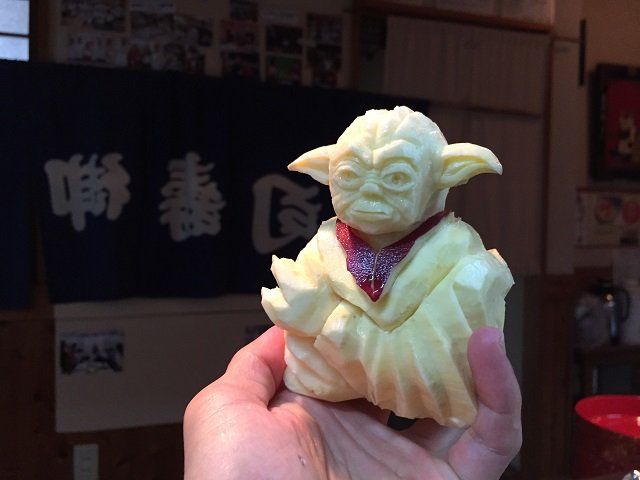 "Eat me, you will!"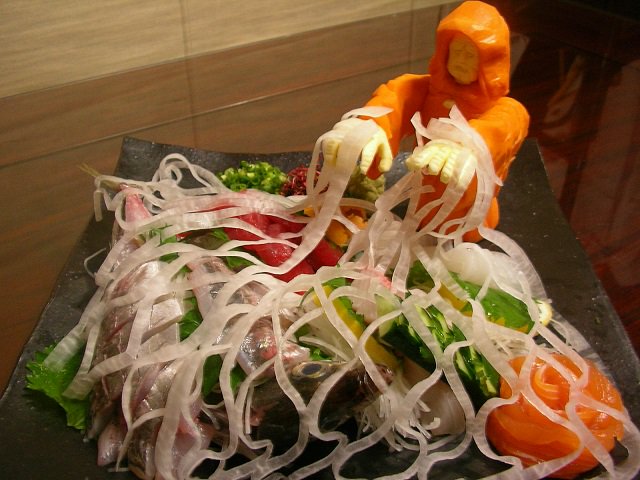 "Now salad, you will feel the full power of the Dark Side!"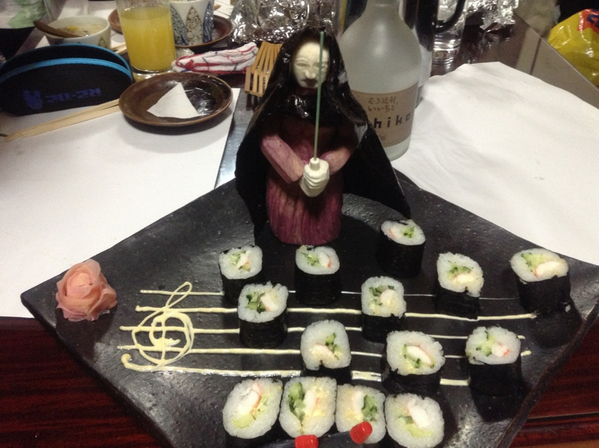 A musical score? Why not?!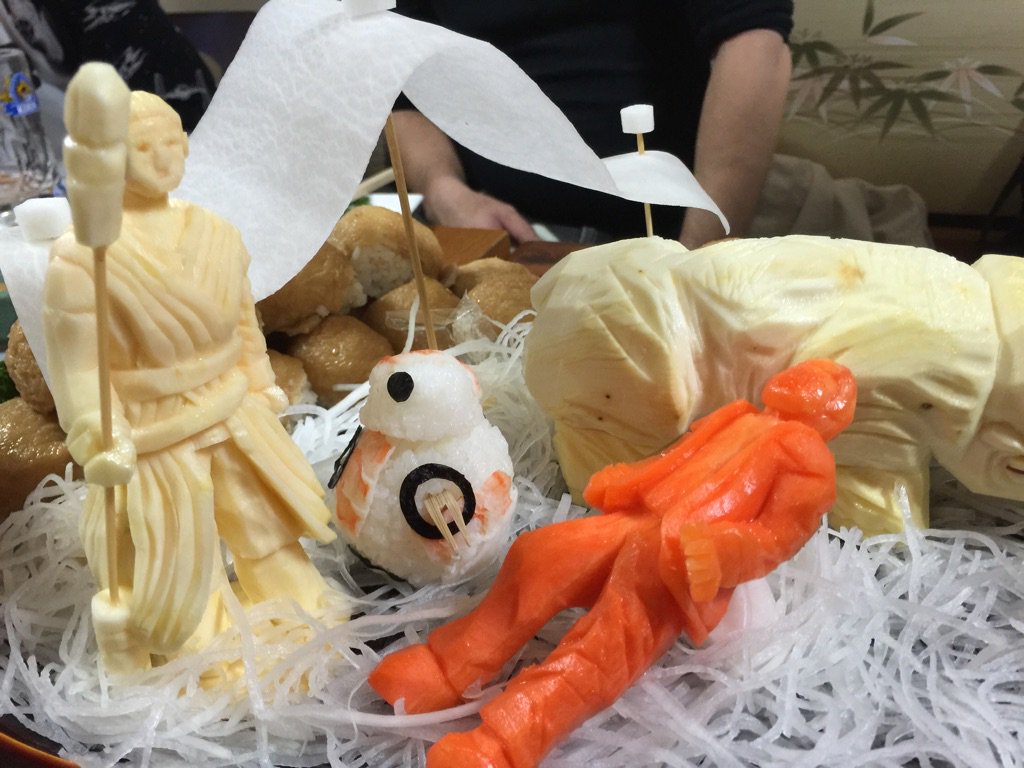 Rey, BB-8 and Finn along with a Happabore.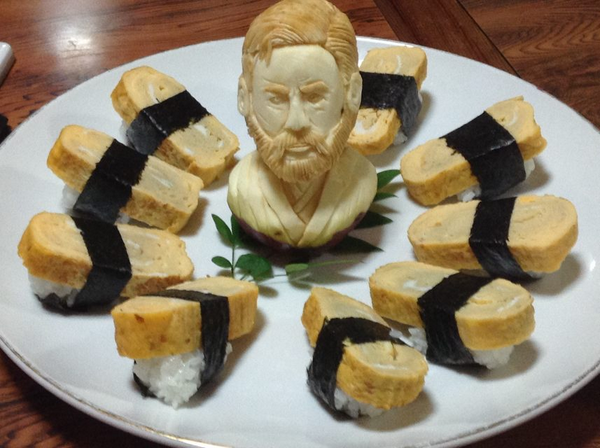 "You will consume me now my young Padawan."
A Stormtrooper holding a carrot gun.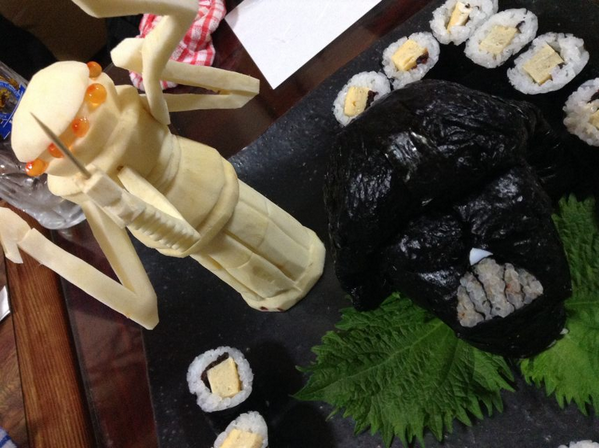 This is the droid you were looking for.
Kado also had the chance to show off some of his previous work last year at Star Wars Celebration.  Watch the short video below to check out more of his awesome creations!
This video showed us that Kado can craft amazing Star Wars mini-sculptures using nothing but Yams.  He displayed an X-Wing, TIE Fighter, BB-8, R2-D2, and of course the iconic Millennium Falcon.  Kado was also able to demonstrate his skills by carving the most recent radar dish that the Millennium Falcon has in  The Force Awakens.  He completes it in only a matter of minutes.
This just goes to show you that this man can use just about any kind of vegetable, and finds a way to turn it into a work of art.  New like this always puts a big smile on my face especially when it involves Star Wars.  This franchise will continue to grow as more and more films are released.  Pretty soon we'll be getting two Star Wars films a year!  The latest film,  Rogue One: A Star Wars Story,  is the first spin-off Star Wars film to date with a Han Solo film also on the way.  Rogue One: A Star Wars Story  will be released in theaters on December 16, roughly one year after  The Force Awakens!  
What did you think of  Okitsugu Kado's Sushi art?  I'd like to hear what you all have to say in the comment section below and don't forget to share!