"The most important thing in the Olympic Games is not to win but to take part, just as the most important thing in life is not the triumph but the struggle.  The essential thing is not to have conquered but to have fought well." 
-Pierre de Coubertin
Special shout out to  Movie Pilot  for granting me a special opportunity to check out a special screening for this film.  Thank you all so very much.  🙂
Eddie the Eagle  is a true story about a young adult who wished he could someday make it to the 1988 Winter Olympics.  Eddie chose ski-jumping as his sport of choice simply because there were no other members trying out to represent the United Kingdom.  He felt he had the best odds of making the Olympics by choosing to take this path.  And when that day eventually came, he never looked back.    
The film stars Taron Egerton  (Kingsman: The Secret Service)  as Eddie and of course the Wolverine himself, Hugh Jackman who plays a washed up drunk and former Olympian.  Jackman eventually becomes Eddie's personal mentor as a coach and gives him helpful advice in the art of ski-jumping.
This is in my honest opinion one of Hugh Jackmans' best performances.  It's really hard to watch him on screen without picturing him flashing his claws but he's able to knock every role given to him out of the park.  Jackman is the complete package and always delivers a phenomenal role.
The film delivers at all levels.  It has the right amount of humor mixed in with the perfect casting choices.  There is never a dull moment as we always feel for this character and want him to succeed. Sure the movie has it's fair share of sports movie cliches but those certainly work to the films' advantage.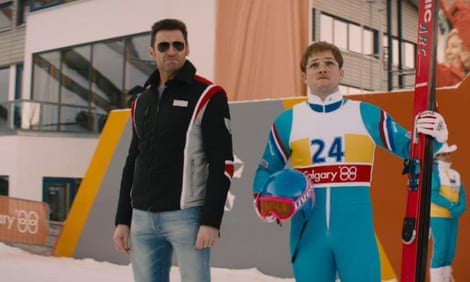 Like any underdog film, the stakes are high for our protagonist.  We are rooting for him throughout the duration of the movie.  He's had to face so many uphill battles including his own father who believed he was crazy for trying out in the Olympics.  His mom on the other hand offered him much needed support and fully believed in him.  Without the support (and funding) from his mother, it's safe to say that Eddie may not have had the courage to get as far as he did.
I love these types of underdog films.  Eddie continued to fight until he reached his dream to compete in the Winter Olympics.  This movie is one of those films I like to call a feel good movie.  These are the kind of films that help inspire us all and give us hope no matter the circumstances.
The important message that I took from this film is that you should never give up on your dream.  If there's something that you want to do in life, just do it.  Don't ever let someone tell you that you're not qualified or that you can't get that far.  There are quite a few quotes from famous Olympians that I'd like to share with you that can relate to a man like Eddie and fits well into the context of the film:
"When anyone tells me I can't do anything, I'm just not listening anymore."
Florence Griffith-Joyner, three-time gold medalist in 1988
"It's all about the journey, not the outcome."
Carl Lewis, gold medalist in 1996, 1992, 1988
"Hard days are the best because that's where champions are made. So if you push through the hard days you can get through anything."
Gabby Douglas, two-time gold medal winner in the 2012 London Olympic Games
"I've missed more than 9,000 shots in my career. I've lost almost 300 games. Twenty-six times, I've been trusted to take the game winning shot and missed. I've failed over and over and over again in my life. And that is why I succeed."
Michael Jordan, gold medalist in basketball in 1992 and 1984
"Never underestimate the power of dreams and the influence of the human spirit. We are all the same in this notion: The potential for greatness lives within each of us."
Wilma Rudolph, gold medalist in athletics in 1960 and bronze medalist in 1956
All of these Olympians have gone through the same trial and error phase.  If they all decided to give up at some point, they surely would not have become a champion.  That is why it is so crucial to keep pushing forward even when the going gets tough.
Eddie the Eagle  can be compared to other films that also inspire us for greatness.  Some of these films include  Miracle, Remember the Titans, Hoosiers, Friday Night Lights,  Chariots of Fire,  and my personal favorite,  Forrest Gump.  
Eddie the Eagle  will not disappoint you.  The positive word of mouth that the film has been receiving will surely increase excitement upon the films release.  I cannot stress this enough by saying you should definitely see this movie.  Eddie the Eagle  is a pure gem and by the end you will be cheering with the crowd and flapping your arms like an eagle shouting, "The Eagle has landed!"
I will give  Eddie the Eagle  a solid 8/10.  Go see it!  Tell me what you thought about the film by sharing your thoughts in the comment section below!
Source: The Gold Medal Mindset